Pregnancy Chiropractic in Cypress
Pregnancy puts a lot of strain on your body: your biomechanics are changing, and you're developing a whole new human being. That's a lot for your body to adapt to!
The Webster Technique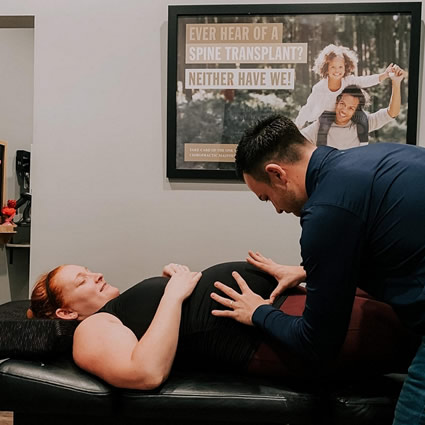 Dr. Jordan offers the Webster Technique for our moms-to-be. This is a very gentle chiropractic technique that doesn't rely on any popping or twisting. We also use pregnancy pillows to help you lie comfortably on the adjusting table as your belly expands.
When the muscles and ligaments of the pelvis are tight, it can affect the uterus and the space your baby has to grow and to get into the optimal position for birth. By regularly evaluating and gently adjusting the position of the sacrum, we can reduce the tightening and torsion of the uterine ligaments, ensuring the pelvis is aligned and creating more space for the baby to move into the proper position for birth.
What You Can Expect
At Invictus Chiropractic, we specialize in pregnancy chiropractic. We want to support you as you go through this special and physically demanding time, ideally from the moment you know you're pregnant. The earlier you seek care, the more comfortable we can make you (and your growing baby) throughout your pregnancy.
In fact, starting regular chiropractic care before becoming pregnant can help your body function at its optimum before you even conceive, creating a healthier experience for you and your child. Depending on your specific situation, we'll see you as often as needed-up through delivery, and beyond.
Postpartum care is equally important, to help your body re-adjust to not being pregnant. Your hormones will be changing, and your body will be recovering from the trauma of giving birth, so adjustments at this time can help you feel your best and cope with sleep deprivation and the physical strain of holding and feeding your new baby.
Get Started Early
However far along you are, chiropractic care can help you be more comfortable. But the earlier you get care, the more comfortable you'll be-and the easier your delivery is likely to be. Contact us today to schedule your appointment.
CONTACT US
---
Pregnancy Chiropractor in Cypress TX | (832) 900-9922