Meet the Team at Invictus Chiropractic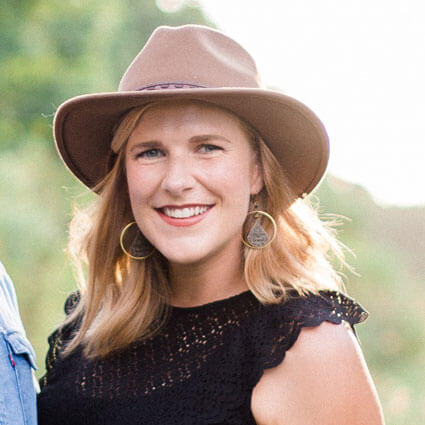 Caitlin grew up in the south suburbs of Chicago. Growing up, she led a healthy, active lifestyle as a three-sport athlete, but stress on her spine from sports-related injuries caused substantial issues in her mid and low back. Sporadic, shooting pain and muscle spasms limited comfort and mobility for more than five years impacting her functioning at work and on the field.
During her first year of teaching and season as a high school softball coach, Dr. Jordan introduced Caitlin to chiropractic care. The frequency and duration of her back pain decreased to near-disappearance allowing her to fully engage with her students and athletes.
After they married, Caitlin pursued consistent, principled chiropractic care and experienced the natural, drug-free, healing potential of chiropractic: increased energy, a strengthened immune system, an active life free of back pain, and, most remarkably, a regulated menstrual cycle. Chiropractic care unleashes her body's innate ability to heal itself, sets her free from her health concerns, and allows her to charge forward in everyday life.
Her goal is to help raise a healthier generation by sharing her story of healing with those in her community. A special education teacher of five years, Caitlin has a passion for working with children and families. You will find her working in the background while with their son Deacon!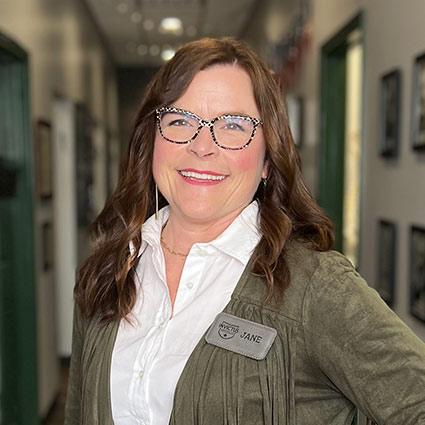 I'm Jane! I was born in Memphis, Tennessee and have had the unique opportunity to experience life in a handful of beautiful cities across the U.S. In 2009, my husband and I made our way to Texas following his call to ministry and Cypress has since become home where we set roots for our family, planted a church, and found purpose.
You can say I've long stood in awe and appreciation of our bodies—intricately designed by God to function properly when cared for and fueled adequately. (I grew up in a home where my mother modelled health: serving fresh vegetables from our garden and encouraging movement. Today, I enjoy cooking, sharing healthy meals with friends, and exploring native cuisine when travelling. I remain active-exercising regularly and soaking up the fresh air with our pups whenever I get the chance.) This conviction inspired me to earn my bachelor's degree in dietetics and serve as an integrated health coach; in addition to my lifelong appreciation for nutrition, I have also made intentional choices in choosing chiropractic care to supplement my health routine as an adult and feel lead to serve as a Care Advocate as part of the team at Invictus Chiropractic.
I was first introduced to chiropractic when I was 25 years old. I sought out chiropractic treatment while I was pregnant with my first child and found incredible relief from back and hip pain. I would describe myself as an active woman and mother; however, years later, my activity was stunned as I struggled to get quality sleep and, with a lack of sufficient rest, noticed my body was unable to heal properly after my daily activities: I used to enjoy hiking but began experiencing noticeable leg and foot pain and found myself unable to simply walk. I attributed these aches and pains to aging, turned to Advil daily, and was considering surgery as an option for treatment.
In His perfect timing, I crossed paths with Dr. Jordan! Within a week of treatment, I was sleeping through the night. Not only was I walking without pain, but I soon returned to my regular exercise routine. With regular adjustments, I have also noticed improvements in my anxiety as well. I am grateful for the changes I've seen in my health and celebrate the progress my husband and son have seen in their own health journeys under the care of Dr. Jordan. I have found an alternative healthcare option that adds years to our lives and life to our years!
I believe so strongly in the design of the human body and the power of chiropractic to aid in allowing for optimal rest and recovery from the stress our bodies endure that I joined the team at Invictus Chiropractic in 2020. My heart for serving Practice Members is congruent with that of Dr. Jordan and fellow team members and makes Invictus Chiropractic an enjoyable place to work! I have a desire to walk alongside our community members in their journeys towards better health and stand behind the care they receive here.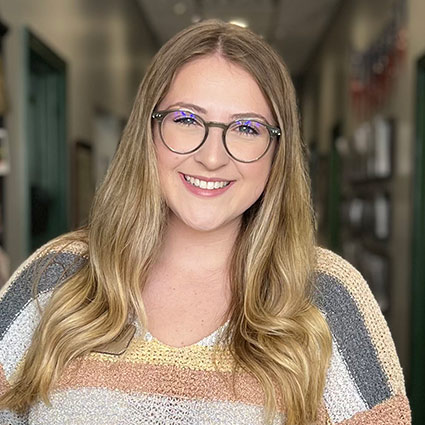 I'm Kate! I was born and raised right here in Cypress, Texas! My parents actually introduced me to Invictus Chiropractic after experiencing progress in their own health under the care of Dr. Jordan.
My own chiropractic journey began in early 2021 after battling headaches for years. My default intervention to subside my discomfort was Tylenol; however, sometimes sleep was the only thing that would do the trick. Just a few short months after starting under neurologically-based chiropractic care, my daily headaches became a thing of the past. Even more incredible: after three years of dependence on thyroid medication, bloodwork now reflects normal thyroid function. What I put into my body largely impacts my overall health, immune system, and even my mood; I am so grateful to have kicked daily medication to the curb. Now, I choose chiropractic care to help my body feel and function best with an inside-out approach.
I value the versatility of chiropractic and the way it serves people from all walks of life with a ray of health concerns; I respect chiropractic's ability to unlock the potential within our bodies and optimize our health; and I am proud to serve my local community as a Patient Care Advocate at Invictus Chiropractic. I joined this team after years of working in childcare, so it is no surprise that one of my favorite parts of my job is serving parents by loving their children. Being a part of the team at Invictus Chiropractic allows me to build relationships; here, I am part of a family of leaders, friends, and like-minded community members.
Outside of serving in the office, I love to travel with family and friends! My current favorite destination is Colorado-skiing in winter and soaking up sun and fresh air year round! I have a special place in my heart for Stillwater, Oklahoma and am a diehard OSU fan!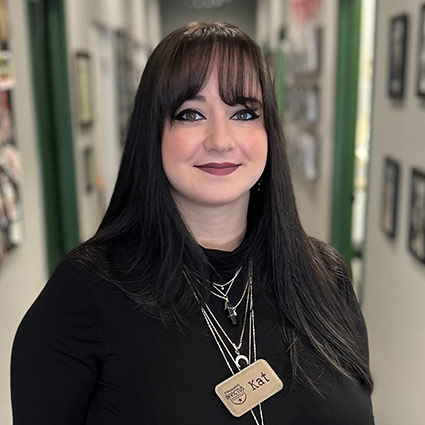 I'm Kat! I started under the care of Dr. Jordan in 2018 after battling debilitating migraines for many years. Despite the best efforts of my primary care physician, the results collected from a multitude of scans were inconclusive. Medication provided some relief but never enough; I needed another option. It was actually my husband, Cameron, who originally pursued care at Invictus Chiropractic; he saw amazing results and urged me to go-I'm so glad I did!
My migraines became nonexistent after just a few months under specific chiropractic care. This was a game changer for me in my life-I could function at work and sleep without issues, but, most importantly, I was more present with my little girl at home! My husband and I trusted our health in the hands of Dr. Jordan so much so that we brought our daughter to see him; she struggled with ear infections, colds, and some hip issues. Today, she moves with greater balance, sleeps better, and has more focus. We have not had any issues with ear infections or allergies and have seen improvements in her digestion.
Not only has specific, neurologically-based chiropractic care positively impacted my health and the trajectory of my future as a woman, wife, and mother, but watching my daughters health improve after being adjusted drives me to empower the parents in our community with the knowledge of chiropractic for themselves and their children so that they may experience an optimized quality of life in their time together!
I joined Team Invictus as a Patient Care Advocate in Summer 2021 and am proud to work alongside a collaborative group of people on that very mission: to bring health, healing, and hope to the families of our community through chiropractic care.
Find me and my family out and about in what I consider my hometown, Cypress/Tomball. Together, we enjoy working out, taking walks with our dog, and cooking healthy meals. In my free time, I enjoy reading and refinishing furniture!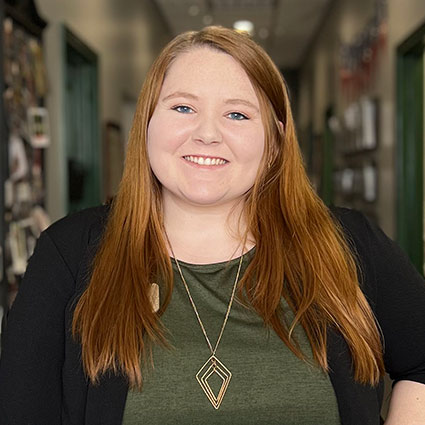 I'm Dianna! I grew up South of Houston in a small town called Sweeny, Texas and have recently relocated to the greater Houston area after spending a few years in Huntsville as a full-time student working towards my bachelors degree in Healthcare Administration at Sam Houston State University – Eat 'Em Up Kats! I recently joined the team at Invictus Chiropractic as a Patient Care Advocate!
I am still writing my story but am blown away by the ways in which chiropractic has unleashed life change for our Practice Members; I am inspired by their testimonies and thank God for leading me to this place to witness His miracles. I believe health comes from within rather than the outside in with medications or surgeries and feel grateful to have found a healthcare provider and office that honors such foundational values.
I am proud to serve as a member of a team that so genuinely loves and cares for the families who enter our space. I particularly enjoy the kiddos who fill our office with energy and laughter. I look forward to meeting you soon!
Catch me out and about exploring this city I love on the weekends with my fiance-hiking, exploring a new dog park with our black lab/blue heeler, or diving into local cuisine.
Get to Us
Our team is here to help answer your questions and make sure you enjoy your experience with us. Call (832) 900-9922 today to book an appointment!
CONTACT US
---
Meet The Team at Invictus Chiropractic | (832) 900-9922