Meet Dr. Anna Hoang
The Power of Chiropractic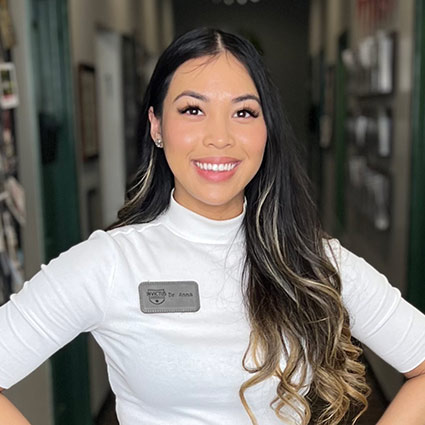 Dr. Anna is originally from Louisiana and earned her undergraduate degree from University of New Orleans. While a full-time student studying biology and chemistry, she observed and served patients in pain management clinics, physical therapy offices, and chiropractic studios; however, it was not until she was in need of such services that her conviction for chiropractic was solidified—establishing both physical strength and foundational beliefs shaping her life moving forward.
After injuring her meniscus, Dr. Anna was advised to consider surgery but knew she had other options for her health. Not only did she make a full recovery with chiropractic care, but it helped her establish correct biomechanics for proper form and function in continued activities.
EXPLORE OUR SERVICES

Sharing her Passion with her Patients
Today, Dr. Anna is an avid weight-lifter! She is committed to becoming a better version of herself every day – personally and professionally – and is honored to walk alongside others in their efforts toward achieving their health, fitness, and wellness goals!
Making Houston Home
Dr. Anna fell in love with Houston and made this city home after attending Texas Chiropractic College in Pasadena, TX. Dr. Anna is a member of the International Chiropractic Pediatric Association and certified in Torque Release Technique. She comes to us with experience working with kiddos and families and joined the team at Invictus Chiropractic as an associate doctor at the turn of 2022.
Fun facts about Dr. Anna: she speaks Vietnamese, has a pup named Kobe, and enjoys exploring new restaurants!
Get Started Today
We'd love to help your family achieve the health it deserves. Contact us today to schedule an appointment.
---
Dr. Anna Hoang | (832) 900-9922